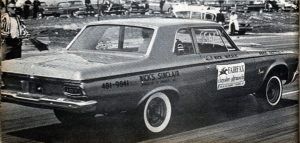 It was special ordered for racing with an aluminum front end, large battery in the trunk, a max-wedge 426 cu.in, engine with dual AFB 4-barrel Carter carbs, a push-button Torqueflite automatic transmission and no other options.
The only mods were Jardine headers and M&A 8″ slicks, widest tires made then! Rear tire likein the picture were Atlas Bucron street tire with VERY soft tread.
The car ran in the Super Stock class and was a consistent local winner against Ford, Chevys and other Mopars!
The picture was taken at 75/80 dragstrip outside of Fredrick, MD.
In the "day" the fast race cars were named, notice "Pace Setter" on the front fender, and the sponsor logo on the door.
Check out the flagman/starter and the 1959 Pontiac ambulance!
Roll bars or cages were not required back then as most SS cars were running low 12's, high 11's, and I still have the original time slips from then.